Woo! Right, so, I'm incredibly excited about this post. It's going to be mostly about how awesome time I had in Budapest and Szeged, so no technical things here. On to the story!
A few months ago @nthgergo asked me whether I want to give a talk on Ghost on a nodejs conference he was putting together in the same format as the oneshot London conference was. Hence the oneshot Budapest conf (twitters: @oneshotbudapest). I was incredibly honoured, and accepted. Plane tickets were bought, and I started to put together my talk. While there, I might as well do some other stuff in Budapest, so this is what I ended up doing:
19th: arrival at BUD at around 1740, public transportation into the city, attend conference pre-meetup at the offices of @ustream. Really nice office. Join peeps for beer after meetup. Go to friend's where I'm staying throughout my stay.
20th: meet a friend at 0800 near the Basilica, coffee, breakfast, then join him for coworking at their super secret office. Electricity dies, relocate to Kaptár Budapest coworking to finish slides. At around 6, I'm leaving to attend a nodebot meetup at @prezi offices. Tessels are awesome, albeit a bit pricey. Go home.
21st: oneshot conference. Arrive at 0855, register, drink nitro powered cold brew coffee, listen to talks, be nervous. Deliver talk at 15:40 local time. YouTube link below. Stay for a bit, eat pizza, have half a pint of ale. Go home. Eszter arrives from Dubai, chat for a bit, sleep.
22nd: go to Nyugati train station, board train to Szeged. Arrive at 12:15, picked up by Fanni and András (sister and her husband). Have an awesome day all around! Went to museums to see Egyptian relics, and then had some coffee, and then went home. Saw a movie, played some games, had dinner, etc. I slept on the couch. It was comfy :).
23rd: much the same as the day before. A birthday party was there. Played Munchkin. Munchkin is awesome!
24th: get a morning train back to Budapest. Meet Anett (long time friend) for lunch. Then I got to see Eszter's (different Eszter than my host) twins. Adorbs all around! Frontend Meetup's admin, @hubudibu asked me whether I was interested to give the same talk I delivered on Friday at their meetup in Hungarian. After asking for permission, I said yes, so went to meetup, did that too! \o/ Went to a chocolate place afterwards which I thought closed 7 years ago. Turns out it never did. o_O Chili hot chocolate is spicy!
25th: Checked out kubik coworking offices. Met @kocsmy, fellow digital nomad there. Had lunch with a friend, talked about a possible SaaS integration with Ghost. Played with an oculus rift. Went to a UX meetup in the evening at @prezi offices. Talked about delight for a bit. Had pizza. Met awesome people.
26th: Went into the city, had Starbucks, did some work at kubik later, and then off to the airport.
Things I noticed:
The tech scene in Budapest is a lot more vibrant than I thought, but... different. There aren't as many people attending, and there seems to be a core group who are always present at the meetups. I had some problems with professionalism from the attendees. Trivialising the speakers' points, commenting asides in a derogatory way, etc. I don't have a problem with feedback, if anything, I welcome it. Comments along the line of "of all three talks, mine was okay, but not because it was good, but the other two were that bad" aren't constructive. That's just douchy.
The AMEX logo on the ticket machines is a lie. Tried to buy daily and weekly tickets twice. Both times the transaction was cancelled. Went through with a Visa card without a glitch though.
Merchants generally have no idea if they accept AMEX or not. My method was:
"Do you take AMEX?"
"No idea..."
"Right. Let's try. If it goes through, you do, if not, you don't."
They usually didn't...
Managed to go to 5 different meetups (okay, 4 meetups and a conference) out of 7 days I visisted. I thought all I'll have is the conference.
My talk: vid / pix
It has YouTube's privacy enhanced mode on, so it only gets info about you if you actually play it vs visiting the page.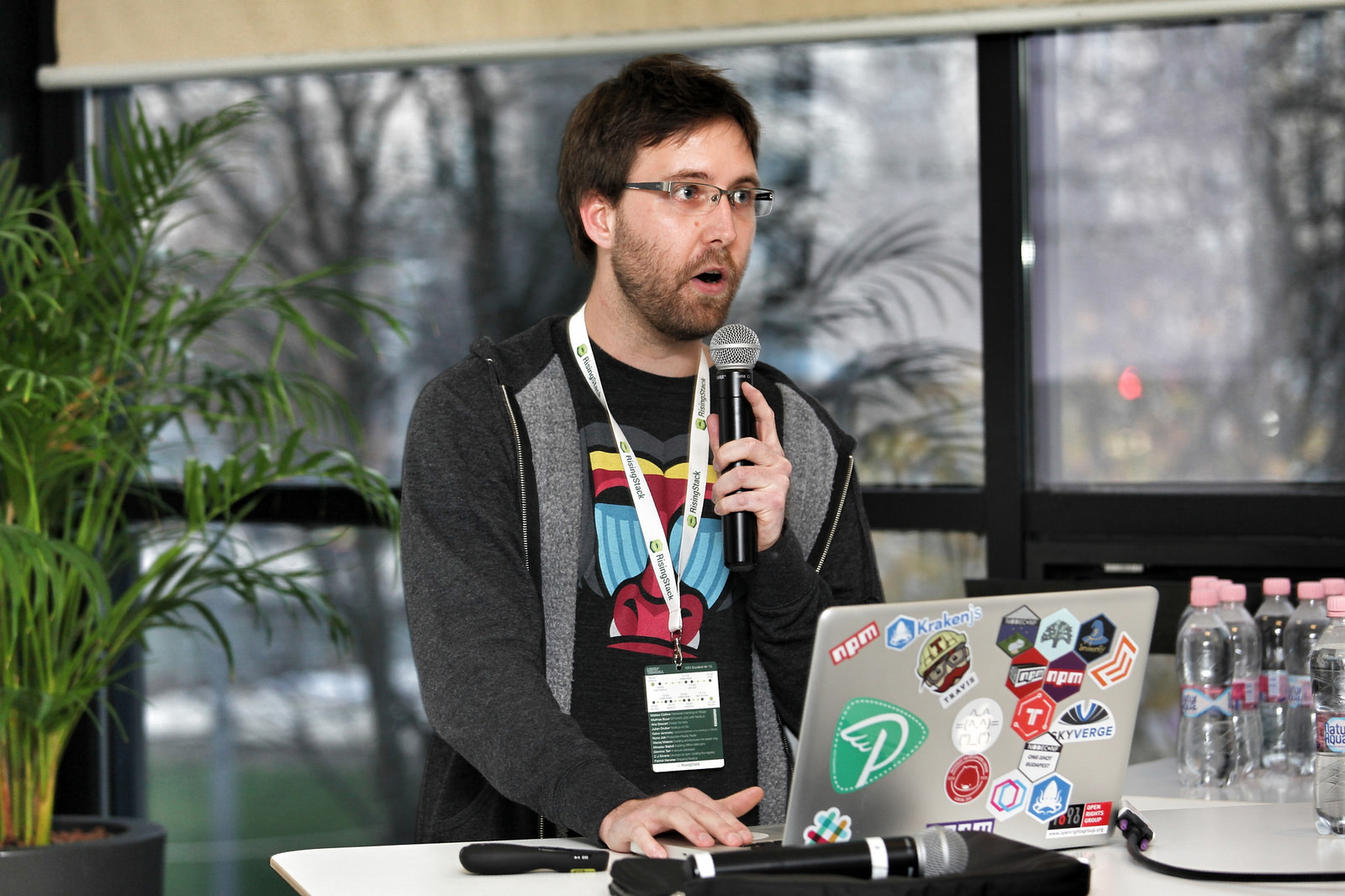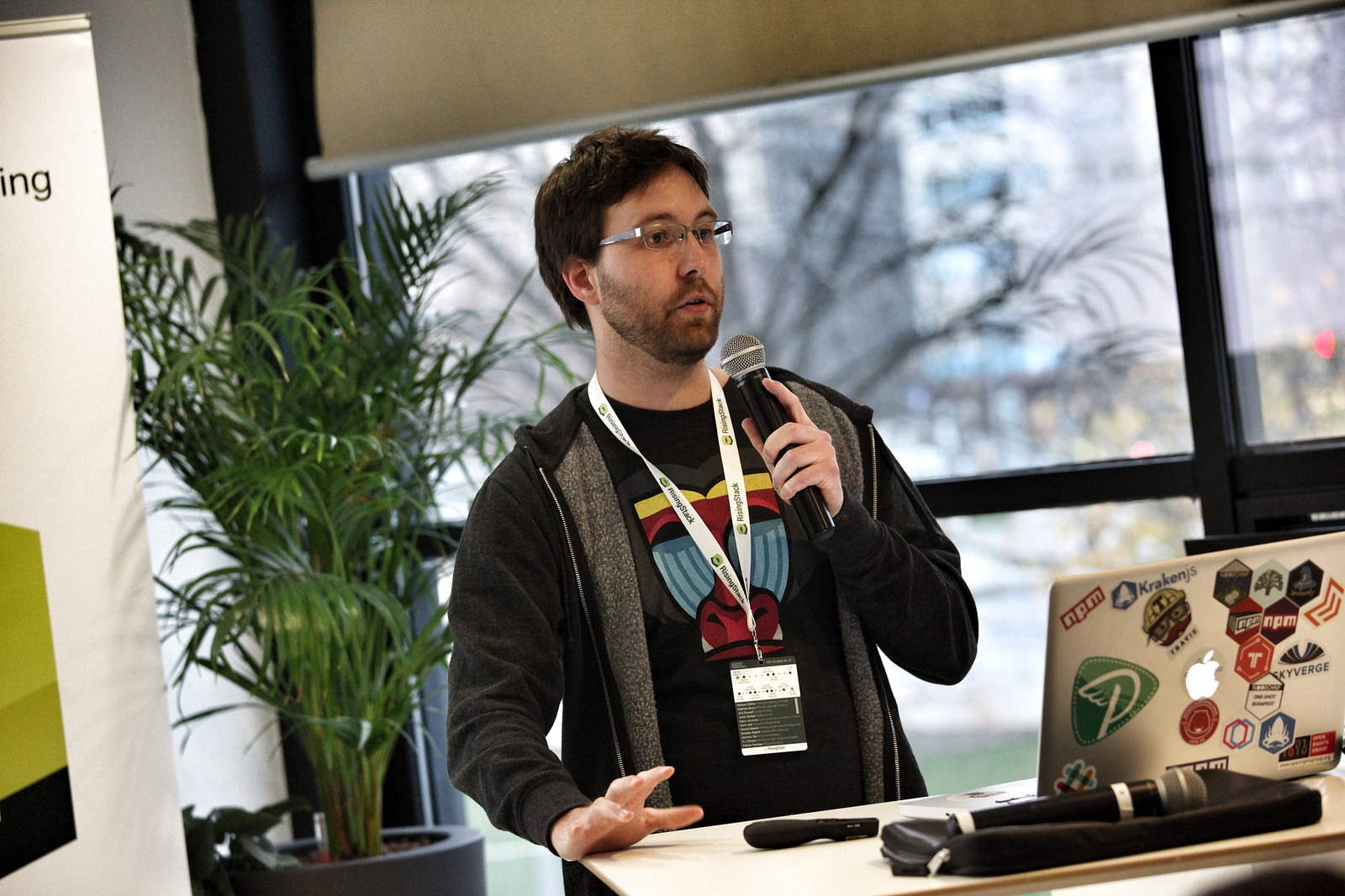 More pictures at the event's flickr page
Look at that majestic person above being all important and stuff. :D